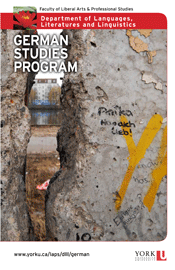 German Studies Brochure (PDF)
About our Program
Academic and Cultural Enrichment
German is a vital tool for academic work in numerous disciplines across the fields of humanities and social sciences. It is hard to think of a field unaffected by writers, philosophers and artists who spoke and wrote in German, from Nietzsche, Freud, and Wittgenstein to Kafka, Brecht, Jelinek, the architects of the Bauhaus, and the filmmakers of the New German Cinema.
Getting Ready for the World
German is also a major language of business, diplomacy and tourism in the European Union and Eastern Europe. Near 100 million people speak German as a primary language, making it the most widely spoken language in the European Union. Some 80 million people speak it as a second language. Language classes are open to students in any discipline and are offered at introductory to advanced levels. Students who complete a required number of language courses and pass an oral/written examination can obtain a Certificate of Proficiency.
German is the No. 1 language spoken in Europe.
Germany invests more money into foreign student study opportunities than any other country
Almost 2 out of 10 books in the world are published in German
German is the second most commonly used scientific language in the world
The domain name .de is second only to .com
Germany is the No 1 export nation in the world and has the 4th largest economy in the world
Students majoring in German Studies also have the opportunity to study in Germany for one year. York has well-established exchange programs with the Freie Universität and Humboldt University in Berlin, University of Konstanz and with many other German universities in conjunction with the Ontario/Baden-Württemberg exchange program.
For more information please refer to the study abroad section.